A "massive new uranium bull market is in full swing," according to investor and analyst Kevin Bambrough.
A huge fundamental sentiment shift is underway, as governments scramble to figure out how to decarbonise their economies over the next couple of decades.
Many nations see nuclear as an important part of the 'green' energy mix and are planning huge new investments in the sector.
Bambrough, in a lengthy Twitter thread, said news from Japan this week convinces him a new uranium bull market to rival 2007 is on the way. In that era, the price of spot Uranium sky rocketed to around US$135 per lb (partly due to perceived supply issues), before ending the run as the financial crisis hit.
2011 also saw a major shift in sentiment away from nuclear energy due to the disaster in Japan.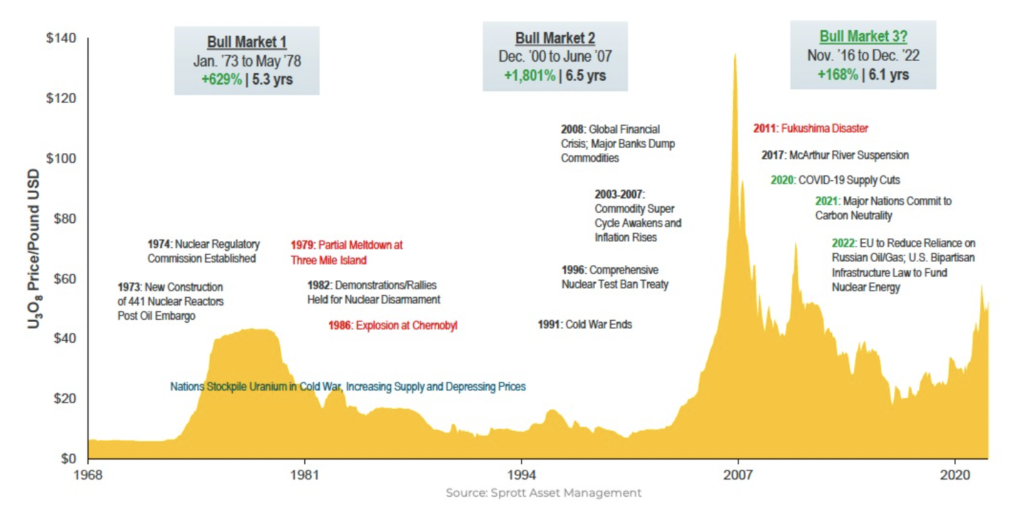 The retired investor and analyst believes Japan was the biggest catalyst for the previous bear market in uranium prices and stocks.
This is "simply explosive for the #uranium market as the biggest source of dumping will become the biggest source of pumping," he said.
He says the change in policy by Japan to be aggressively pro-nuclear again – after years of nuclear power plant shutdowns in the wake of the 2011 earthquake and tsunami – is a huge turning point for the market.
On Friday, the Japanese Cabinet approved new policies to transform the economy to be carbon-neutral by 2050 and fire up old and build new plants over the next decade or so. These new nuclear energy policies will be taken to Parliament in coming weeks, to be passed into law.
(Even Elon Musk celebrated the news on Twitter).
Japan has been hit particularly hard with energy costs from the oil, gas and coal price rise in 2022, co-including with a post-pandemic economic opening world-wide and the Russian invasion of Ukraine.
Japan, he argues, will need to start stockpiling uranium again to ensure the nation can sustain the coming growth in nuclear energy – which includes extending existing plant lifetime, restarting shuttered plants from the 2010s and building new plants into 2030.
"The battle for long term uranium supplies is coming… this market is all about the long term contracting cycle and it's about to get dramatic. Some will surely elect to grab what can be had in a very thin spot market," he said.